Is your organization already using Adobe Stock, or are you thinking about starting? The Adobe Stock library is a great place to source royalty-free stock photography, illustrations and video to enhance your own asset library–especially now that you can use our new integration to plug it into Pickit. It's a simple way to effortlessly distribute content to colleagues and collaborators in Office 365, Google Workspace and more.
Read on to see how the new integration can simplify your workflow and help create a smoother experience across all your applications.
How to connect your Adobe Stock account to Pickit
When you click on the Media Markets tab, you'll see the integration option for Adobe Stock. You can connect Pickit directly to your Adobe Stock Account to easily import, manage and distribute your Adobe images right alongside your other media in Pickit.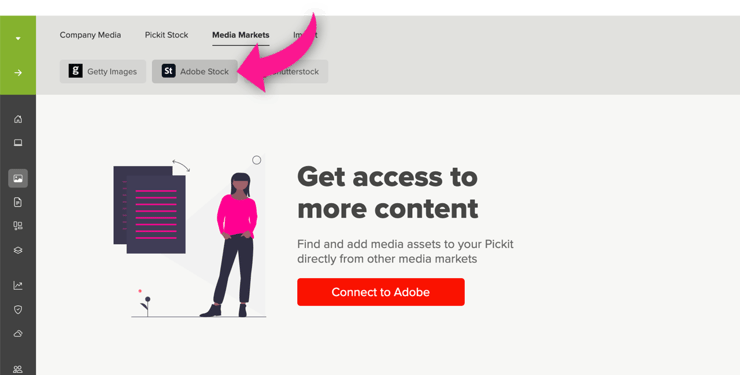 Now that the connection is complete, you'll see Your Adobe Stock Images History and Search Adobe Stock Images. You can add individual images from Adobe Stock into your own library stored in Company Media or add them directly to your collections. To save images to your Company Media bank, just click the cloud icon. To add to images to collection, simply drag and drop files from the left side of the screen into the collection. When you add a Adobe Stock image file directly to a collection, the file will also automatically save to your Pickit Media view.
You'll not be charged by Adobe for importing your existing Adobe Stock Image History into Pickit. You'll only be charged by Adobe when you save a new image from Search Adobe Stock Images.
Work smarter across platforms
Whether you've been using Adobe Stock for ages or are just thinking about starting, this integration will enable you to distribute their high-quality material to colleagues in the applications your employees use every day.
You can easily import, manage and distribute your Adobe Stock images alongside your other media files stored in Pickit with one click. It's a great way to bring all your files together in one place. As always, you can also choose to source content from our integrated Pickit Stock™ library of over a million licensed, free-to-use photos, icons and illustrations, as a complement to your own company's digital assets and content sourced from Adobe Stock™.
Want to learn more? Book a demo today by clicking on the link below and find out how to get the most out of your Adobe Stock files.
Pickit + other platforms
When it comes to your digital assets, keeping everything accessible, organized and consistently branded can be a challenge. And obviously, with time the more content you and your team create, the more assets you have to eventually manage. This process will naturally become more time-consuming as your volume of files and documents increases.
With Pickit's Enterprise package, you can now enjoy all the benefits of a full-scale Digital Asset Management solution while retaining the simplicity and visual navigation you love from our existing solution. The system is still seamlessly integrated with Microsoft apps such as PowerPoint, Word and Teams, but now also includes integrations to help you quickly connect to external image libraries and file management systems.
That's why it's vital for your organization to have your assets stored in a single and convenient location, so you don't need to waste any time in trying to find that specific file. Our latest partnership with Adobe Stock is all about making it as easy as possible to produce high-quality creative content, fast.
As always, we're working to introduce even more integrations in the near future – if you have an idea about a platform you'd like to see integrated with Pickit, please send us a message to let us know!
Not using Pickit yet or got any questions? Request a 15-minute demo and let one of our product specialists walk you through.