We're delighted to announce the release of our brand new integration with Box! Together with recent releases for Dropbox and Microsoft 365, this new solution is part of our continued effort to help organizations like yours achieve the best possible results, whatever your preferred applications and current cloud storage solution may be. We're confident that this integration will both save time and help ensure a consistent brand identity across all your communications.
Read on to see how the new integration can simplify your workflow and help create a smoother experience than ever before.
Another way to work smarter, not harder

Many of our users find themselves losing productivity due to constant context-switching, which is why we're always looking for ways to simplify and streamline workflows. One way of achieving that is by connecting Pickit to the other applications and platforms people are already using, saving them from searching for important files and digital assets in multiple locations.
After connecting to your Box account directly from the Pickit platform, you can easily import, manage and distribute your docs alongside your other media files, so you can view all your relevant assets together in one place.
How to connect your Box account to Pickit
When you click on the Media > Other Sources tab, you'll see the integration option for Box. Here, you can connect to your Box account and easily import and distribute any of your Box files to your Pickit collections.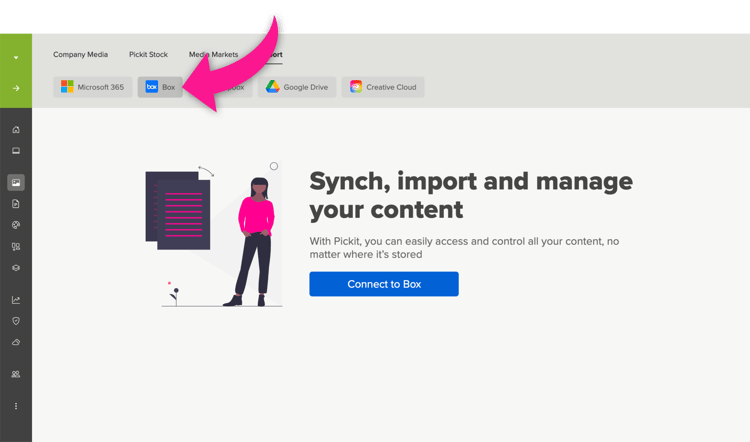 Connect the Box extension to Pickit by logging-in to your Box account. Once you're logged in, you'll be able to access and browse an overview of your folders or directly search for a specific file or folder.
Begin to import by clicking on the Import file or Import folder button after hovering on the file/folder. From there, select whether you'd like to import either media or documents, or import both media and documents. You'll also get an option to import directly to a collection to have a better overview of what you've imported.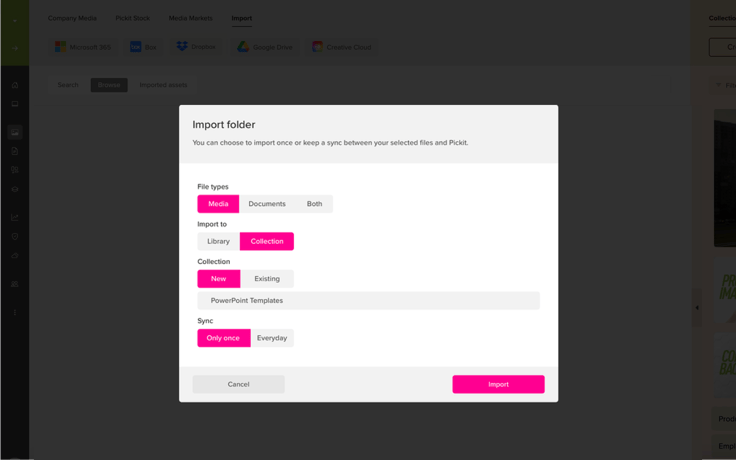 Finally, you can choose between a one-time sync, which has to be updated manually in order to update new content into it, or an everyday sync. If you select the everyday sync option, all the new files that are uploaded to the imported folder will also be imported daily to Pickit. If there have been any changes to a file, Pickit will replace them with the newly updated version. Under connected folders, you can see all of your active synced jobs, and you can even choose if you would like to disconnect any of them.
Important note: Pickit doesn't delete files that have been deleted in Box; it only adds the new updated/content.
A few benefits of using Pickit with Box
Visual navigation
Pickit's visually compelling, user-centric navigation helps bring your company content to life. Users can quickly get a better overview of images, videos, documents and templates. surface digital assets from Box more easily.


Metadata
A great complement to Box, Pickit provides a simple way to access metadata and search assets using popular terms and keywords.


Version history
Document version history from Box will automatically be included and previous versions will be archived. That way, Pickit will always have the most current content.
Some technical information
Synchronization
The Box integration enables Pickit users to access the most current versions of files stored on Box without having to manually sync or switch platforms. This can be set to update daily, weekly or monthly, depending on your preference.


Files and folders
File or folder-level synchronization, allowing users to map several folders to one or simply synchronize files individually.


Authentication
Users don't need to log into multiple services or authenticate more often than in Box. Pickit adopts the same frequency as your Box account.
Pickit + other platforms
When it comes to your digital assets, keeping everything accessible, organized and consistently branded can at times be a challenge. That's why it's vital for your organization to make sure your most important content is available in one single and convenient location. This integration does that, helping increase efficiency and ensure brand consistency across your organization.
Having recently launched Pickit Enterprise, which provides seamless integration with industry-leading image banks and storage systems such as Dropbox, Getty Images, Microsoft 365 (including SharePoint, Teams and OneDrive), Google Workspace and WordPress, we're happy to say that Pickit is truly full-scale DAM solution.
As always, we're working to introduce even more integrations in the near future – if you have an idea about a platform you'd like to see integrated with Pickit, please send us a message to let us know!
Not using Pickit yet or got any questions? Request a 15-minute demo and let one of our product specialists walk you through it.