We all know there's a steady supply of images on the internet, but unfortunately, they're not always from reliable sources. It's estimated that around 85% of visuals downloaded from search engines are either unlicensed or used illegally.
For a designer borrowing some snaps to polish their Photoshop skills in the privacy of their own home, or a mom making birthday party invitations with some clipart from Google, an unlicensed image or two won't be an issue. But for a company, using copyright-infringing content can lead to expensive, time-consuming lawsuits. If you want to ensure your organization isn't hit, it's crucial to make sure you're using 100% legal and compliant images all the time.
Enter Pickit Stock™.
What's included in Pickit Stock

™

?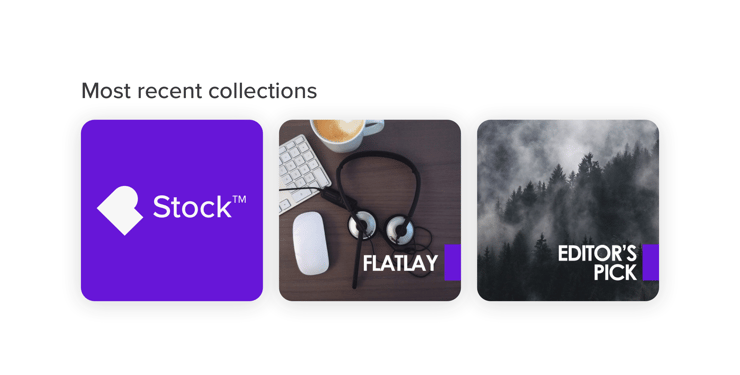 When you use our built/in library, you get unlimited access to over a million licensed images, icons, illustrations, and royalty-free photos handpicked by a team of professional editors at Pickit.
Browse themed collections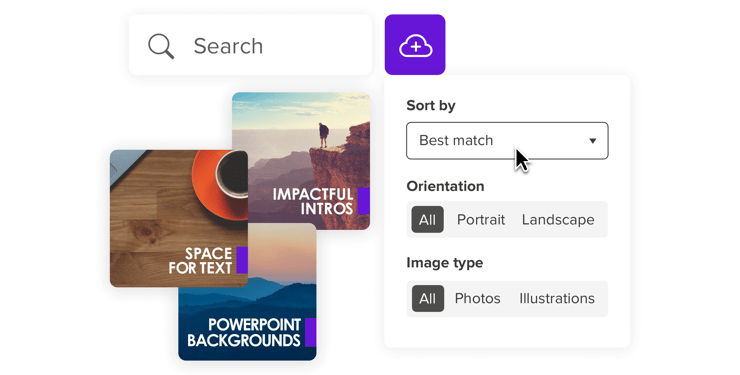 We're continually handpicking the best images and compiling them in themed collections. Why? Pickit collections are unique because they are regularly updated with new visuals based on what's popular and trending, they're like playlists for your presentations.

Examples include Presentation Backgrounds, Black Icons, Metaphors, Work From Home, Virtual Backgrounds and images with extra Space for Text.
Save your favorite images
You can save your favorite Pickit Stock™ images for easy access. To save an image, click on the heart icon that appears when you hover over the image. Content can be later found by clicking the heart icon within Pickit Stock™.
Access image details
When you click an image, a details box will open with more information about the source, keywords, a description, and more.




To find more images from the same photographer or image provider, you can simply click on their name. Clicking on a

keyword

will perform a search for this keyword.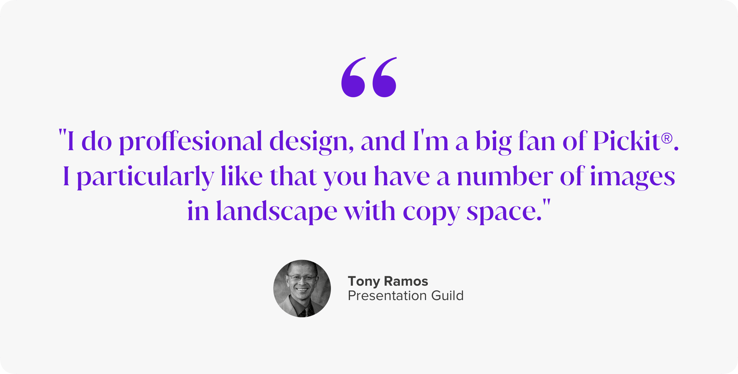 Where do the images come from?
Our library is aggregated from over a dozen leading stock image providers who license a selection of their content to Pickit. This model has several benefits for the end-user, the most obvious one being that they can access material from multiple providers in one place, all searchable and accessible under one roof.
Other pros include not needing to set up accounts with each individual provider, or navigate their varying licensing and subscription models.
Pickit Stock™ vs. search engines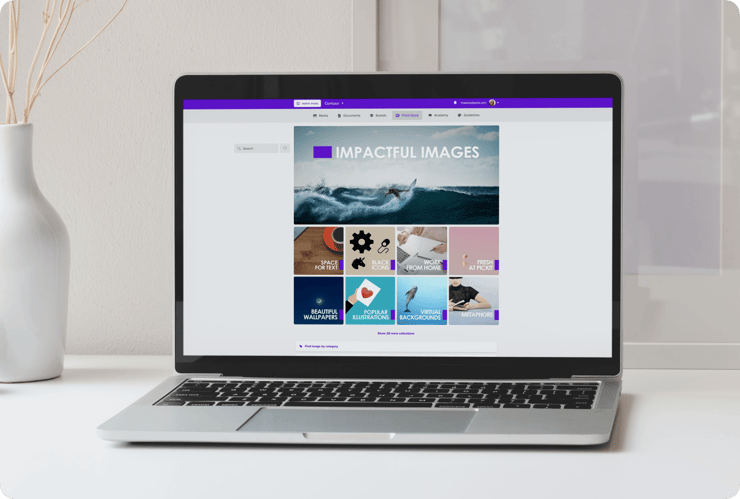 If you use images you've found on search engines in your business presentations and documents, you're very likely to be using either unlicensed or illegal material. The problem with these images is that they can be uploaded by anyone, from anywhere, which usually means:
Models never get notified and therefore can't give their permission to use the image by way of a model release
The photographers don't get notified, properly credited or rewarded for their work
Search engines don't always accurately filter copyrighted vs. non-copyrighted images in a trustworthy manner
It's difficult to know if the image is an original, a copy, or a version that has been altered or edited along the way
Companies based in, or working with, the EU should also bear in mind that the General Data Protection Regulation (GDPR) that went into effect in 2018 created the strictest online data usage laws ever. And as more advanced image tracking is just around the corner, it's more important than ever to focus on small details like compliant content to protect your business.
Pickit Stock™ vs. other stock providers
There are dozens of stock image websites to choose from, but all have slightly different pricing and features. The best stock provider for you depends on the type of media you're looking for (photos, illustrations, vector art, audio, or video) and the type of license you require (where you plan to use it: print, digital, commercial, etc.).
With Pickit, you can protect your brand and take back total control of the images used by your team. Store and monitor image licenses and usage rights, so you're never at risk of copyright infringement or compliance issues. Our goal has always been to save you and your team time and minimize context-switching.
What does Legally Cleared™ mean?
You're probably familiar with terms like Copyright, Creative Commons, and Public Domain, even if you don't know exactly what they mean. However, you might not have heard of Legally Cleared™, even if the name is a bit of a giveaway. Because the other aforementioned license types and terms can be incredibly complicated, we decided to create a unique licensing model of our own: Legally Cleared™.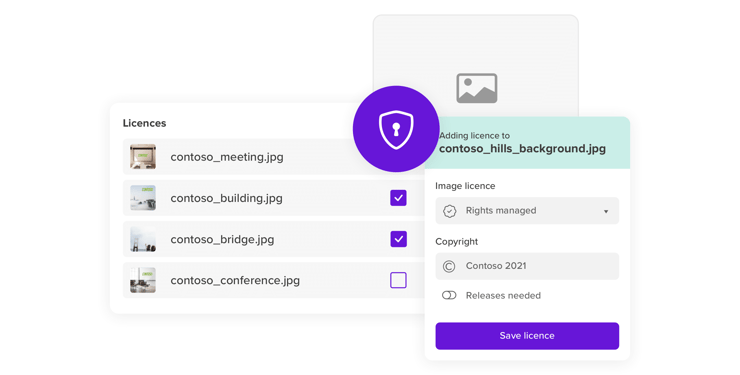 In a nutshell, it has a comprehensive screening process that's simpler and safer than anything else out there. It combines the best human curation and AI to ensure all photos, icons, and clipart uploaded to Pickit Stock™ have been professionally screened and approved. And the Legally Cleared™ model means you never need to worry about all that boring legal stuff like copyright, landmark protection, model releases, and attribution.
Our only restriction is that you can't resell the images. Otherwise, use them for your presentations, docs, website, blog, email campaigns, social media, print media, and more.
We do the work for you, so you can worry about what really matters!
How does it work?
Pickit Stock™ can be accessed via Microsoft 365, Google Workspace ecosystem or on the web.
When you sign into the Pickit platform on the web, click on Media in the side menu, and look for Pickit Stock™. This is where you can save your favorite images or create your own collections and easily distribute them right alongside your other media in Pickit.
Adding Pickit Stock

™

images to your own library
Another benefit is that – if you're using Pickit as your organization's DAM system – the built-in library can be easily switched on so you can add individual images from Pickit Stock™ to your own library stored in Company Media or add them directly to your collections. To save images to your Company Media bank, just click the cloud icon. To add images to a collection, simply drag and drop files from the left side of the screen into the collection.
Users can now save a lot of time and minimize context-switching by accessing stock images in seconds from inside Google Slides, Google Docs, Microsoft PowerPoint, Word, and Teams using Pickit's award-winning apps.
Search images to reuse licensed content
With the help of keywords, image type filters and other metadata tags, you can search your library of previously licensed assets and reuse content for presentations, press, advertising, internal communications and more. Pickit preserves images metadata, making it easy to quickly find the exact asset you are looking for.
Share to Google Workspace and Microsoft 365
Distribute images to our award-winning apps for easy access in PowerPoint, Word, Teams, Slides, and Docs. This significantly reduces the amount context-switching needed and makes the presentation and document creation process faster and smoother.
So, why Pickit Stock™? Because with our solution, you will gain access to a service tailored to your company's specific needs, allowing you to access the smartest, simplest digital asset management platform on the planet, with the benefits of a modern subscription model – cost-effective and built for the modern workplace.
Not a Pickit user yet?