How many times have you sat through surprisingly poorly designed PowerPoint presentations from top organizations that were boring, cluttered, and distracting? Yes, that's right, probably way too many. Even though we all loathe a boring presentation, when the time comes to creating one ourselves, can we do it any better than the average PowerPoint user?
The good news is you don't have to be a professional designer to know how to make an impressive presentation quickly and effectively. You're not left to your own devices when you work with Pickit, which is fully customizable and works a treat with your company templates and documents.
In this post, we'll share three quick steps to simplify your workflow when working in Microsoft PowerPoint and inspire your coworkers and customers alike.
1. Images, logos, inspiration and guidelines all in one place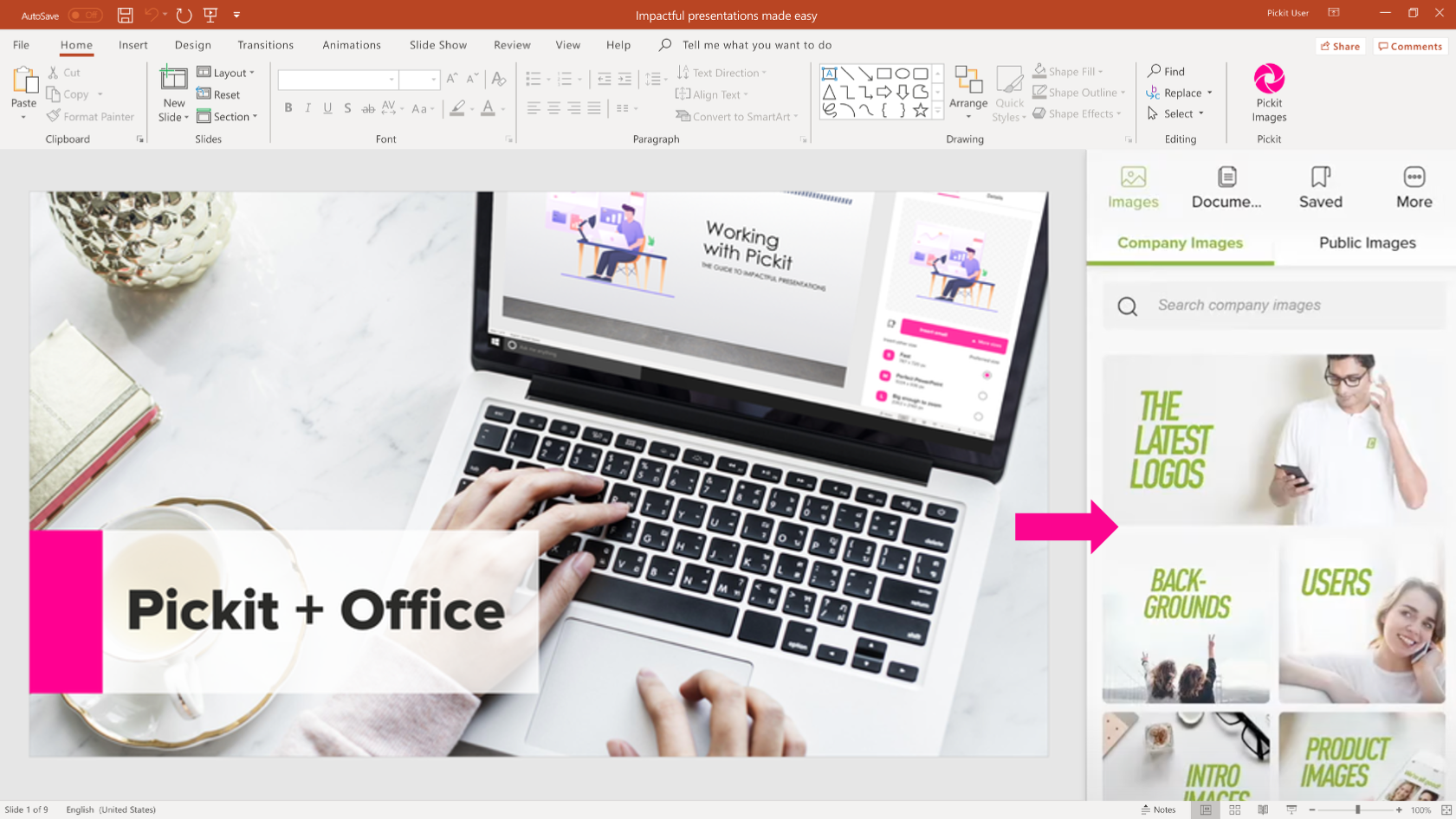 Finding the right and relevant company documents and images for your current project can be one of the biggest sticking points for the individual user. If you're not on top of your game, you can end up spending an awful lot of valuable time and effort searching for suitable content.
As a result, you or a member of your team could be tempted to resort to rehashing an old presentation, often containing outdated info and off-brand material. A familiar nightmare scenario, I know.
What if I told you that there's a solution to this right at your fingertips. A hallelujah moment I hear you say? Indeed, we have your back brothers and sisters!
Our Pickit + Office 365 package provides the perfect platform to ease through any such troubles from the unique and convenient setting that Microsoft provides.
Learn more in our Pickit User Guide
2. Share templates and guides without losing freedom

By publishing your brand guide on a mini-site inside PowerPoint, you'll be increasing the chances people actually read and follow the guidelines, while still maintaining full control over what brand codes you share with the rest of your team, so they can easily stay on brand.
As an administrator, you can activate this service to get your entire organization or selected members of it to work as one. Also, you can decide which specific options to share with your team, so that they can find help on how to work with your PowerPoint template, image tonality, colors, fonts, and much more. This is a perfect way for you to support your entire organization when they need it the most in a simple yet efficient way.
Not only do you save time, but you minimize the chances of some unfortunate freestyler coming along and ruining all your hard work. This will provide you with the peace of mind so that you can focus on making your next project as inspirational and successful as possible.
3. Distribute successful decks that inspire and equip
What are your company's values and culture? How can you embed and reinforce them in everything you do so you can live to your core values? How can you create a workplace where people can make a difference and where you can retain the A+ talent that is the lifeblood of your company?
Too many questions? Luckily, there's a pretty simple answer.
Creating a culture deck is an effective way to make all your co-workers sing from the same songbook and stay on the same page. Allowing you to create a clearly articulated mission that will help you identify and attract great talent… Key resources that share your same motivations and philosophies and that will contribute tangibly to achieve your shared goals.
And thanks to Pickit and our new Sharing feature, you can now distribute all this key info, not only with your team members but also make it available to external suppliers, customers, freelancers, etc. so that everyone is aware of your organization's unique and exciting vision.
That's just one example of how to use Sharing. It works just as well for pitch decks, business reports, budget documents, newsletter PDFs and much more.
We believe that you will find this feature extremely useful, specially now that we have all moved to remote solutions and have most of our team working from home.
Interested in seeing how Pickit could help you to simplify your workflow in Microsoft PowerPoint?
Click the button to schedule a quick demo, and we'll be happy to answer any questions or get you set up with a free trial.