Effective communication is a precise art. Whether you're presenting your company's quarterly results to inquisitive shareholders at a meeting, or introducing your latest eagerly anticipated product release, explaining a radical new business strategy to your co-workers or negotiating the finer details of an important deal can be a big deal. Whether you're physically present or online over a video conference app, you need to be in full control of some key skills such as listening, persuasion or storytelling. Only when communicators learn to master these skills can they truly get their message across successfully and achieve their goals.
In the next few lines, we attempt to learn and draw inspiration from some great modern-day public speakers and analyze some of the techniques that have helped them become truly exceptional at effectively conveying their message in their own unique styles.
Communication, some theory
The greatest threat to good communication is the illusion of it.
How many times have you met someone who's convinced that what they're instructing you to do is absolutely crystal clear, only for you to be unsure of what they've just said and too scared to ask any questions? This is a very common problem for most organizations.
In order for your communication to be of optimal quality, you need three basic yet fundamental qualities:
Clarity

- The message must be as clear and to the point as possible.

Brevity

- Keep it short and simple.

Empathy

- Adapt the message to your audience's needs, and avoid any unnecessary technical jargon if you can.
Whatever you have to present or talk about, ensure you can back it up with realistic and relevant examples. Using actual real-life personal experiences will make your story more credible, and you'll better connect with your audience.
But how to know for certain that what you've just said has been fully understood? Well, never assume! As NASA crew often say, "to ass-u-me makes an ass of both you and me".
Always remember to close the loop and never skip the chance, if you possibly can, of offering your audience the opportunity of asking any clarifying questions to make sure that your message was correctly understood.
Put simply, when it comes to your online presentations, that Q&A at the end of your session is the best tool you've got to get your points across to your audience. And please remember, there's a reason why we have only one mouth but have been designed with two ears. By listening actively to your audience, you can clarify their queries effectively.
In fact, the less you try to dominate the conversation unnecessarily, the greater relevance your specific and precise inputs will have. In other words, you don't have to be passive nor aggressive. Just be assertive in the way you communicate.
At this point, I'm sure you already recognize some common traits in some of your favorite public speakers. Here are three of our all-time favorites at Pickit!
Oprah Winfrey
The legendary TV personality has a great reputation for giving inspirational speeches, either during award ceremonies or at dedicated events. She seduces her audiences with heartwarming tales of her own personal life and with moving stories about how she managed to make it big.
Most notable traits:
Emotion - Many of her speeches involve a story about her own difficult upbringing, which many people can relate to. Often, she highlights that it is during the most difficult of times that the most creative solutions can be found.
Connects with her audience - Working for so many years with a live studio audience has helped her perfect how she interacts with those watching. Oprah engages with her audience in a way that makes everyone feel genuinely involved.
Inspiration - By discussing improvements she's made to her own life, Winfrey encourages others to do the same, inspiring people to make important behavioral changes themselves.
Oprah Winfrey truly is a master of the skill of empathizing with others.
Barack Obama
The first-ever Afro-American President of the United States quickly established a reputation for delivering quick-witted and empathetic speeches, both during and after his term in office. Whichever side of the aisle you're on, it's hard to deny that Barack Obama communicated his ideas in a very approachable manner, always ensuring to keep eye contact with those in attendance.
Most notable traits:
The champion of smiles, Barack Obama has effectively used his unique smile to great effect, often flicking the happy switch in his audience's brains, making it up to 30% more likely for others to be more receptive and eager to collaborate with him.
Steve Jobs
The late Steve Jobs is on most people's lists of great public speakers. Many still remember his first iPhone launch in 2007 as the moment the presentation industry changed forever. He perfected his skill to the point he turned it into a true art form.
Most notable traits:
Storytelling -

Jobs would keep his audience engaged with a story, delivered slowly and simply, explaining the reason why Apple had been working on a project and emphasizing how much care and attention he and his team had poured into it.

Rule of three -

He knew that when information is presented in groups of three, it becomes more accessible. Therefore he would organize not only his presentations into thirds but also describe new products in threes.

Passion -

When Steve Jobs introduced a new Apple product, it was easy to see that he really believed it was the most exciting thing ever. That passion and enthusiasm were infectious.
One last thing. There is no question that Steve Jobs was a truly exceptional talent, whose confident style made him a legendary communicator. Still, there is one important skill of his that is often overlooked. Credibility. He would rarely overpromise when talking about his products, and risk losing credibility, to the point where any product launched by Apple to this day is still regarded as true to its real capabilities.
Unlimited access to 1M+ images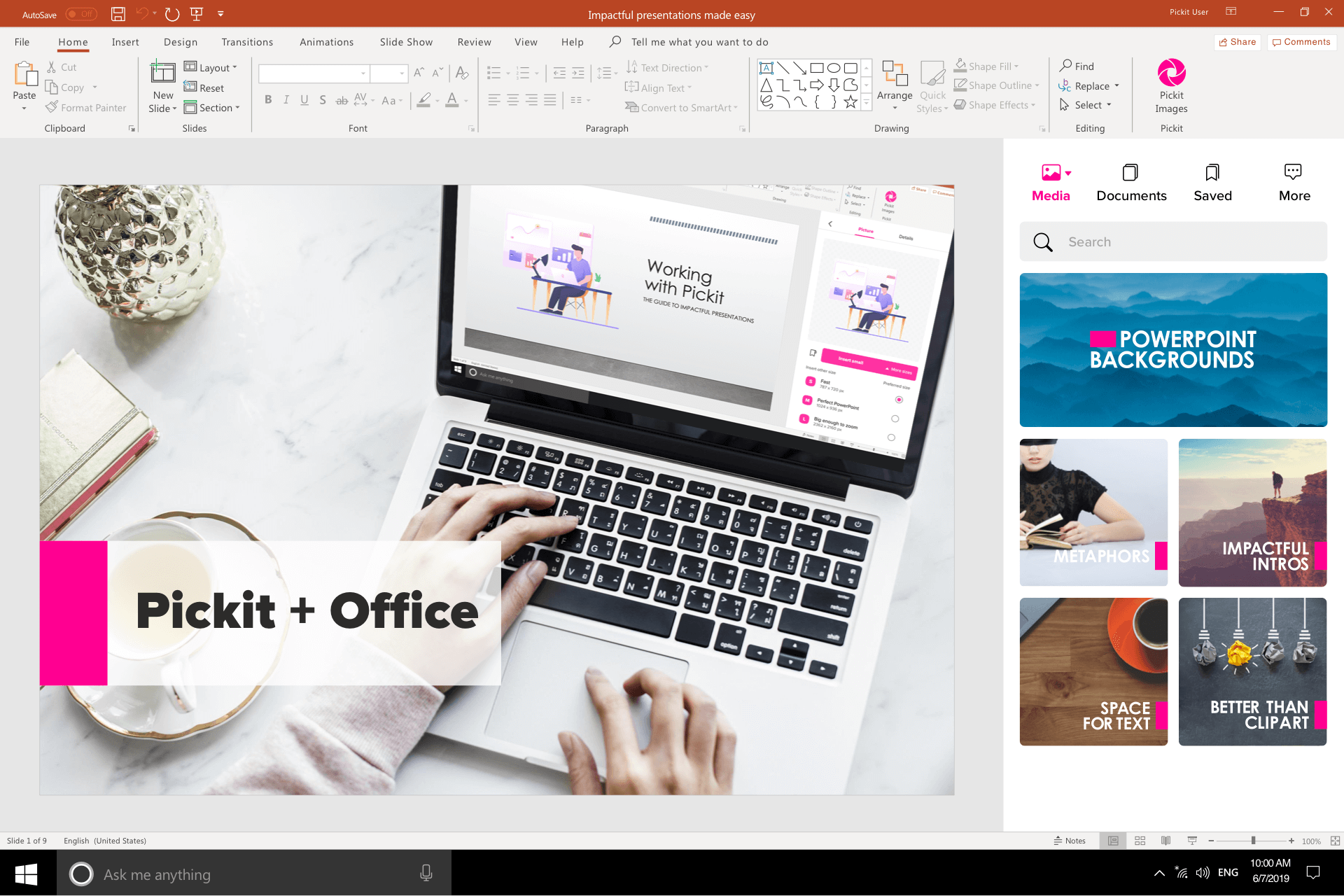 Having said all this–and irrespective of how well you master the art of public speaking–things are always that little bit more effective and effortless when you have the best tools at your disposal. After all, one should not forget that visual communication is more prevalent than ever.
Start using Pickit today! Turn your presentations into an impactful tool that will help you make your story both compelling and a simple way of better engaging with your audience.
Installing the award-winning Pickit add-in and get unlimited access to over 1M+ images in PowerPoint, Word, Teams and on the web.