The world of marketing is notorious for its quirky characters—some easier to work with than others. But whether you think your marketing department is the bee's knees or a flaming dumpster fire, most of us could take some pointers from the pros.
We take a look at 10 of the world's best CMO candidates.
1. Lady Gaga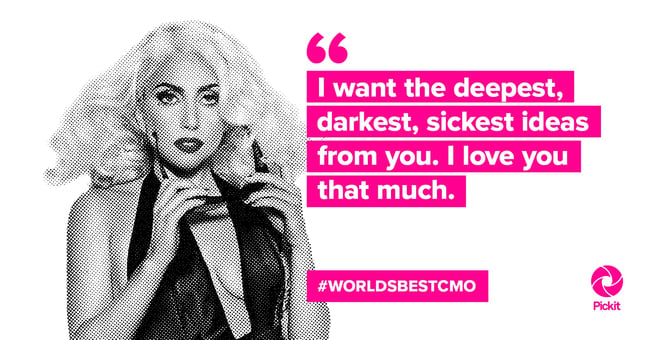 Her fans love her enough to call themselves "monsters," which should tell you something about brand loyalty. Gaga knows that the visual side is key, and she has endless ways of drawing attention to her ideas—some meatier than others.
2. Ernest Hemingway
Although you probably won't see this guy show up to your office anytime soon (unless your office is a haunted Parisian café), his legacy of powerful stories lives on. Keeps things simple, yet knows how to stir emotions with just a few words. Downsides: often tries to fight people.
3. Justin Trudeau
Honestly, he could probably print out pictures of his face and your images would still be pretty solid, but he happens to have some pretty good ideas, too. Listens well, plays nicely with other world leaders.
4. Oprah
She's got a knack for getting people who watch television to buy her ideas, so maybe you should listen to a few of them. Also known for her enthusiasm and generosity. You get a pitch, you get a pitch—you're all going home with pitches!
5. The Dalai Lama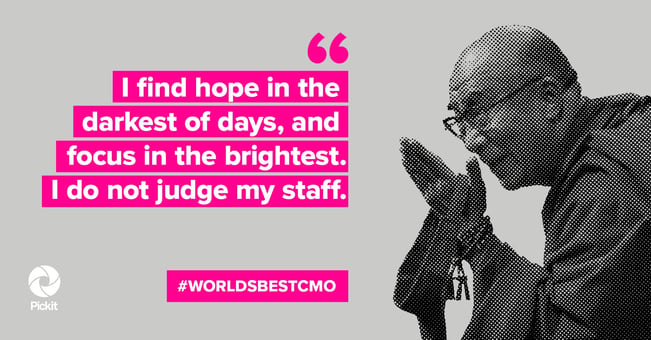 Stressed out about a flow-chart? Don't be silly, un-enlightened one. The Dalai Lama always keeps things in perspective, and can put out fires just by blinking at them.
---
---
6. Meryl Streep
So versatile you might not recognize her from one day to the next, but never contradictory. Up for trying lots of new things, but probably you shouldn't suggest any more musicals.
7. Albus Dumbledore
He's a true leader and confidant who believes in the goodness of others (maybe a bit too much). You might not know how to take his advice until later, but his hat is full of secrets—secret wisdom, that is.
8. Trevor Noah
He can put people in stitches faster than a skilled surgeon, and with a lot less blood. Probably speaks your language, and laughs with you almost as much as he laughs at you. Put on your sneakers before meetings, though—he'll take your idea and run with it.
9. Michelle Obama
Great motivational speaker, and always encourages people to be ambitious and find their own paths. Fair warning: may give the side eye for not eating enough vegetables.
10. Yoda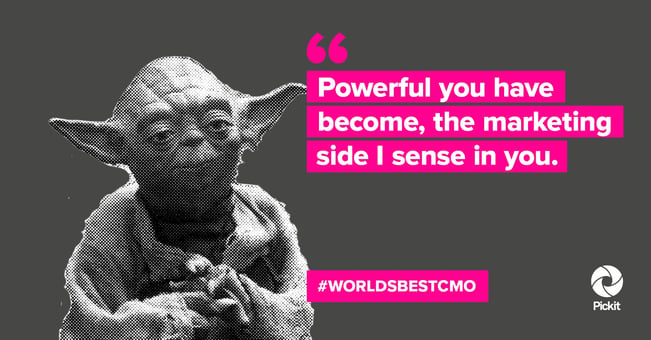 Doesn't really speak in grammatically correct sentences (so don't put him on copy editing), but somehow manages to always say the right thing. Always gives sage advice, maybe because he is sage-colored.
---
Want to meet the world's worst CMO candidates?
---
Feeling inspired by our list?
Luckily, there are plenty of resources to help you up your CMO game. We're biased, of course, but Pickit Business is definitely on that list.
It's an easy way to empower your staff and still maintain brand compliance, making your company's content a whole lot better, whether your CMO is Yoda or Darth Vader. Unfortunately we can't help you look as cool as Dumbledore or the Dalai Lama, but wearing a robe might help.
Who wrote this?
Rob Dysell, our CMO here at Pickit. Rob is the new kind of CMO. Powered by unwavering curiosity and creativity, he's constantly chasing insights and challenging conventional practice. He's passionate about helping people work smarter, and has spent the last decade harnessing the latest industry tools to help ad agencies, corporates, and tech startups. He also loves to ride a surfboard, and is secretly addicted to Quora.