By Boris Hristov, Founder of Presentation Agency 356labs
Are you using PowerPoint 2019 or the one coming with Office 365? Congrats! You can do magic! And for those of you still on an older version, keep reading because what you will see in this article will surely make you do the switch or at least push towards it if you work in a corporate environment.
Many people often tell me that PowerPoint hasn't changed that much. To be honest, I can see why they are saying that. Almost nothing changed that dramatically from 2007 up until the last few years. However, three years ago (in 2016) many things changed. Microsoft started introducing a ton of new features to the product and one of them is called Morph Transition.
So, what is the Morph Transition?


Morph is a complete game-changer. No, I am not kidding.
Morph, in its most basic form, works by animating (for us) two (or more objects) that repeat across two (or more) slides. Here's a very quick example.
In case you think that's not "big of a deal", let's put into a bit more context.
Recently, one of our clients had to pitch their product in Monaco, France in front of a Fortune 100 financial institution. They just came out from a training with us (you can find more about us at 356labs here) where one of the things we taught them was Morph. So, they decided to use it and with the help of a panorama photo like the one below they created this visual metaphor that their product is like a "walk in the city". Here's how they created their background.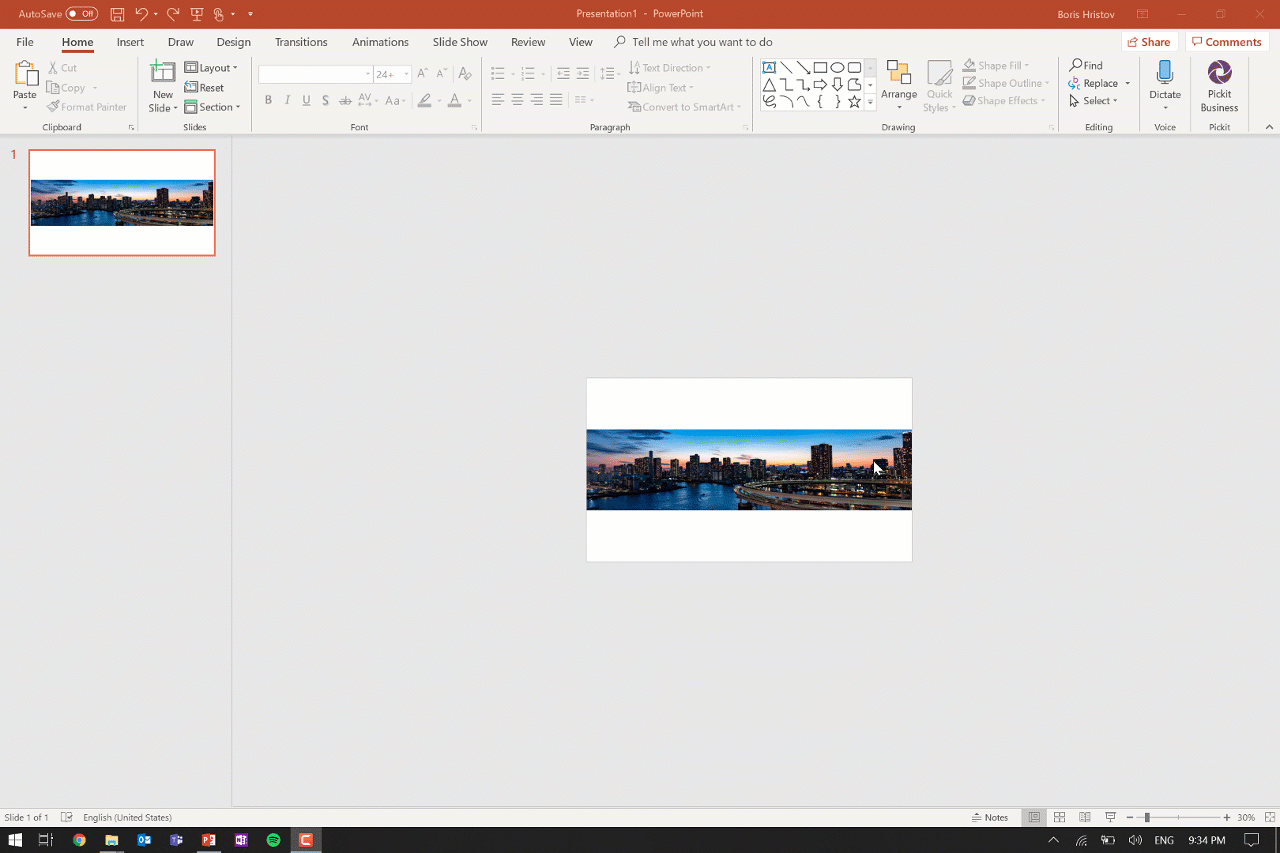 The result? They not only closed the deal but after the presentation, their client came to the presenter and ask him how was this presentation created in first place? Do you want your clients or audience to ask you that question? I am sure you do.
Now that you know you need the same object to be seen between two or more slides so that PowerPoint can "detect" it and then create the transition for you, allow me to show you what can happen if get a bit more creative and use more than one repeatable object between two or more slides. The below three are real-world examples from presentations that we at 356labs created for some of our clients.
Important: If you want to be able to create such presentations, I would highly recommend you create it step by step:
Add one object across two or more slides
Choose Morph for those slides
Test if Morph animates properly
If so, add another object you want to animate
Choose Morph and see the results
Repeat with as many objects you like to animate
I am sharing that approach because many people try to create a very complicated animation, they add insane number of objects, choose Morph and then for some reason something does not work as they would expect it to work. The troubleshooting of this is now way more complicated, however, because there are just so many things on those slides.
Back to the examples. Study them carefully and pay attention where the objects are placed so that those animations end up working.
Fancy, huh? It's your turn now! Are you going to use Morph in your presentations and what do you think about it? Let us know in the comments below and in case you want to learn more than 40 other PowerPoint tips & tricks that will help you build better presentations faster, go check out our online course on the topic. Use promo code "356PICKIT" at the checkout to enroll in any of the plans with 30% discount, have fun and enjoy learning!
---
This is a guest article written by the Founder of Presentation Agency 356labs – Boris Hristov.