PowerPoint can be so effective because of its ability to combine words and images to communicate ideas. But its effectiveness as a tool will be blunted if you fail to pay attention to the delicately balancing these two components. A presentation can get thrown off balance in one of two ways:
The words and images are boring and unoriginal. They fail to inspire or engage the audience, blurring the presentation into a bland shade of beige.

Too much attention is paid to the words, and too little emphasis is placed on the visual aspects of the presentation (or vice-versa).
Most audiences have seen plenty of presentations, and they're fatigued by anything that doesn't immediately capture their attention. Here's where images can be a seriously powerful strategy, often summarizing an idea more succinctly than words. Also, they're often more memorable.
---
Want more like this? Subscribe to the blog
---
Why are your PowerPoint templates so important?
Forget the uninspiring stock photos and tired cliches that riddle most business presentations, and update your look. It's time for a PowerPoint makeover. For part one, we enlisted the help of our good friends at Eyeful Presentations, to collect some of the most common PowerPoint template fails for you to avoid. For over 10 years, Eyeful have delivered training seminars on creating better business presentations to some of the world's biggest companies. They've researched what makes an effective presentation more than anyone else we know.
So, in no particular order here's a list of the biggest PowerPoint template faux pas: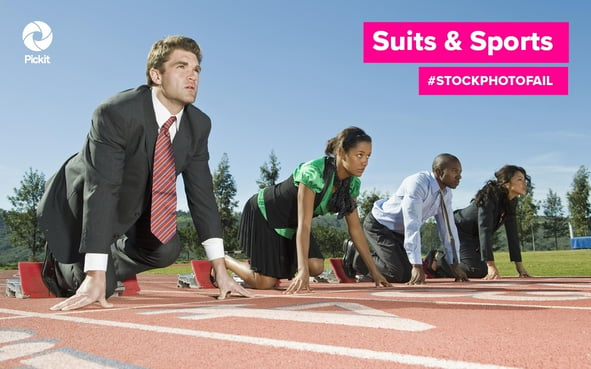 People in formal business dress poised at the starting line of running track.

No one can sprint in a suit or dress shoes. And a lot of people are out of shape and haven't run fast since their last game of kiss-chase in school. Reminding your audience of their lack of physical prowess does not help give people a 'winning' mentality.
Using images with the watermark still visible.

Like leaving the label in a dress because you're planning on returning it after your cousin's wedding. This tells your audience they're not important enough for you make an effort. Not to mention it's cheap–the watermark means the image is copyrighted and to use it, you were supposed to pay. You're inadvertently telling your audience you are a criminal.
Using the same inspirational quotes everyone has used in business since about the year 10BC.

"The definition of insanity is repeating the same old, meaningless quotations again and again and noticing the ever diminishing impact it has on the audience."
Images of stacks (and stacks and more stacks) of money.

Like 99% of Tinder profiles, the picture is wildly unrealistic, and there's no substance to the claims being made. Your sales pitch comes across as disingenuous at best, cos if you were really that great at making money, you'd be retired already or running for President.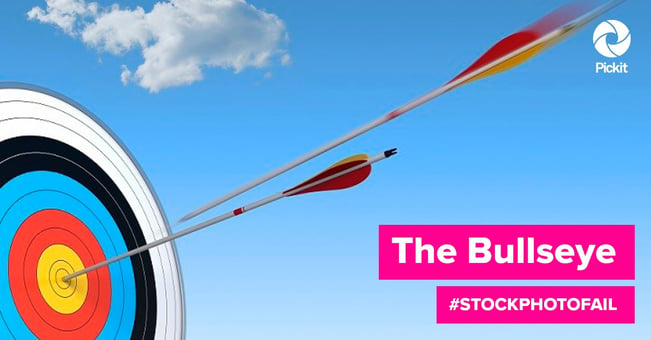 A big target, with bonus points for arrows hitting the bullseye.

We guarantee you; there's nobody in your audience that doesn't know what a target is. You don't need to explain it.
A lightbulb (especially those hipster antique ones).

The audience can see that the lights are on, but nobody's home.
Business people looking very hard at a computer screen.

It's not even on or connected to anything. They're literally staring at a blank screen. At least make it realistic by putting a Facebook page on the screen, so it looks like real-life time-wasting.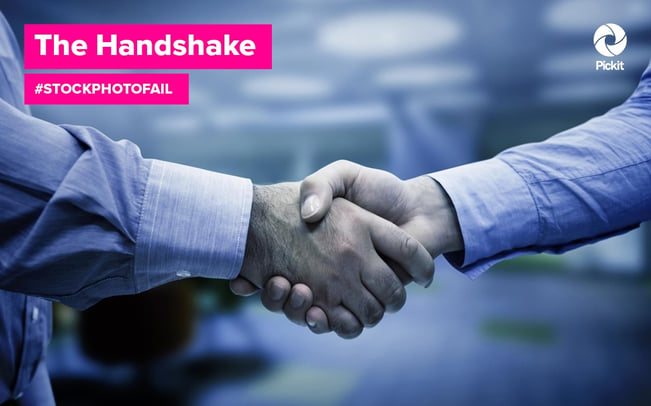 A close-up of hands shaking.

Let's all agree this needs to stop, OK? Great, let's shake on it, just to be sure.

Apropos of nothing whatsoever to do with the rest of your presentation, a picture of a cute kitten or other infant animal.

They may well be cute, but unfortunately, the cuteness doesn't distract from your lameness.

Using buzzwords in large BLOCK CAPITALS.

The only thing you're 'disrupting' is people's concentration.

Cogs.

People would prefer to see some turning in your head than on your screen.

A rosette.

Do they even make these anymore? Nothing says success like a bit of colorful paper fastened to a piece of ribbon. Except, you know, a million other things.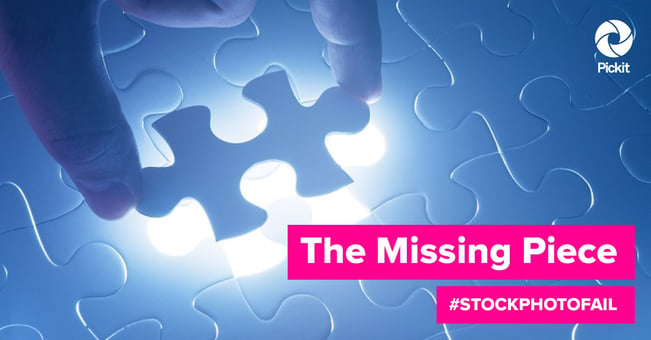 Jigsaws.

It's puzzling to say the least. Why people, why?!
Human figures linked together around the planet Earth.

The 1970s wants its cliche back, OK?!
Don't settle for tired templates and cheesy off-the-shelf stock photography. Get unlimited access to authentic imagery and give your PowerPoint temaplates a breath of fresh air with Pickit Free Images.