As the year draws to an end, we wanted to quickly recap some of the exciting new developments we've been able to implement this year, before we all shift our focus to family, friends and the joys of the holiday season.
Our commitment is to simplify the way you work and help improve your productivity, so over the course of the year we've continued to evolve and refine our service. This year's innovations have resulted in the successful launch of our 2-in-1 image service with a new add-in, an Insights Dashboard, our ever-growing image bank, new User Groups, and our most recent additions, Pickit for Microsoft Teams and Pickit Academy.
Here's a quick look at our most eventful year to date and a brief overview of our 2019 releases.
2-in-1 image service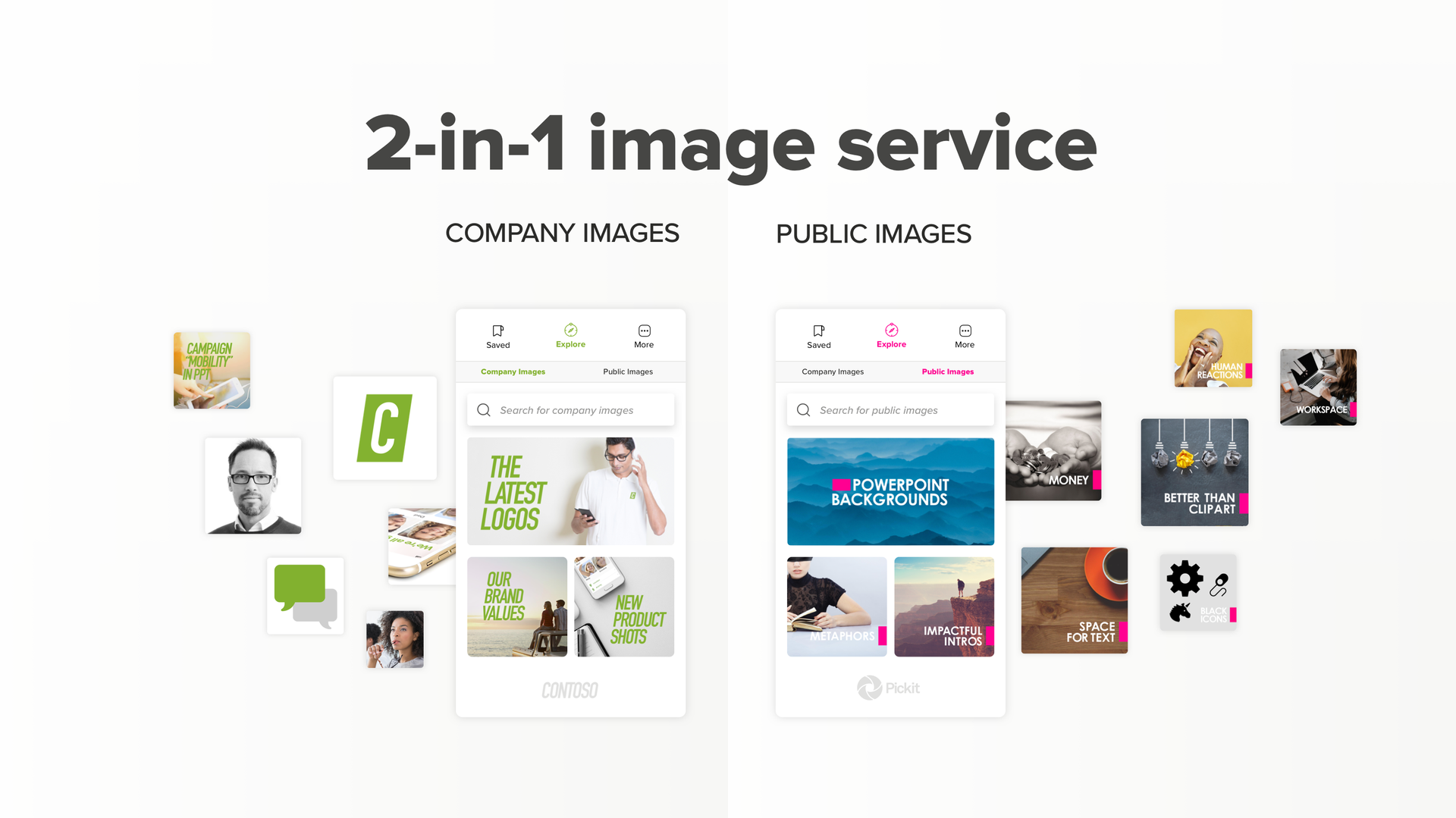 Now companies don't need two separate services to store their own images and source new ones. Earlier in the year, we released a new web app and add-in with both products rolled into one.
Pickit 2-in-1 enables organizations to store all their visual assets in a single place and distribute them to colleagues inside PowerPoint, Word, Teams and the web. It's an easier way to empower employees, unleash creativity and achieve better brand control across the company.
Insights Dashboard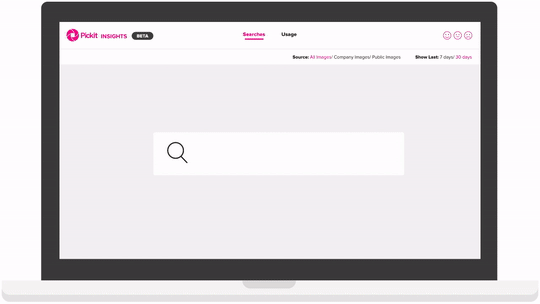 Knowledge is power, and accessing analytics and insights that help you understand how your colleagues are using your company image bank mean you can keep it up to date and relevant all year long.
That's why we introduced the Insights Dashboard. Pickit Business administrators now have access to data and actionable insights in the Administration Panel, making it easy to optimize their image bank and increase colleagues' productivity.
The dashboard helps admins identify the usage of assets as well as providing an overview of colleagues' searches. Additionally, admins are able to easily locate untagged files and images without descriptions.
The Insights Dashboard finally makes it easy to build an image bank that people will find both practical and easy to use.
Not only that, but as part of our commitment to steady and incremental improvements, over the year we've been able to make several enhancements to our Insights Dashboard thanks in great part to your valuable feedback.
Public image bank page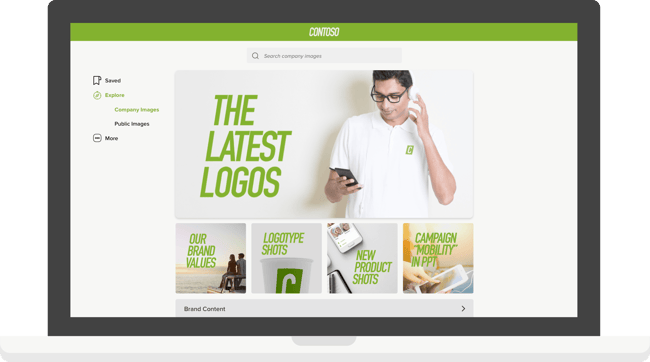 Our public page is an all-new responsive page for our public image library and your company's image bank. We wanted to create a more unified user experience, therefore the page shares design and functionality features with the Office add-in people already know and love.
Public Images - Easy access to our public image library on the web.
Saved Images - Create and access saved collections and images.
Search History - See your search and insert history.
New User Groups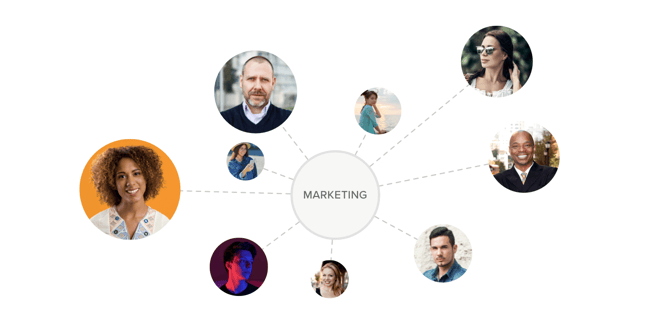 We've added a connection between Pickit and the Azure Active Directory to make the process of managing user permissions and sharing collections much easier.
Invite People - We've redesigned the Invite Users view so you can easily find and invite people from your AAD.
Invite Groups - You can now invite entire groups from your Office 365 company database, give permissions to groups and assign collection access.
Create your own Groups - Admins can now create and add users to their own groups in order to more efficiently share with multiple users at once.
Pickit Academy
The Pickit Academy will live under a tab in our PowerPoint add-in and will be the place where we regularly share tips, tricks and advice in order to help you become a better presenter, or as we say, make your presentation even better!
Pickit Business in Microsoft Teams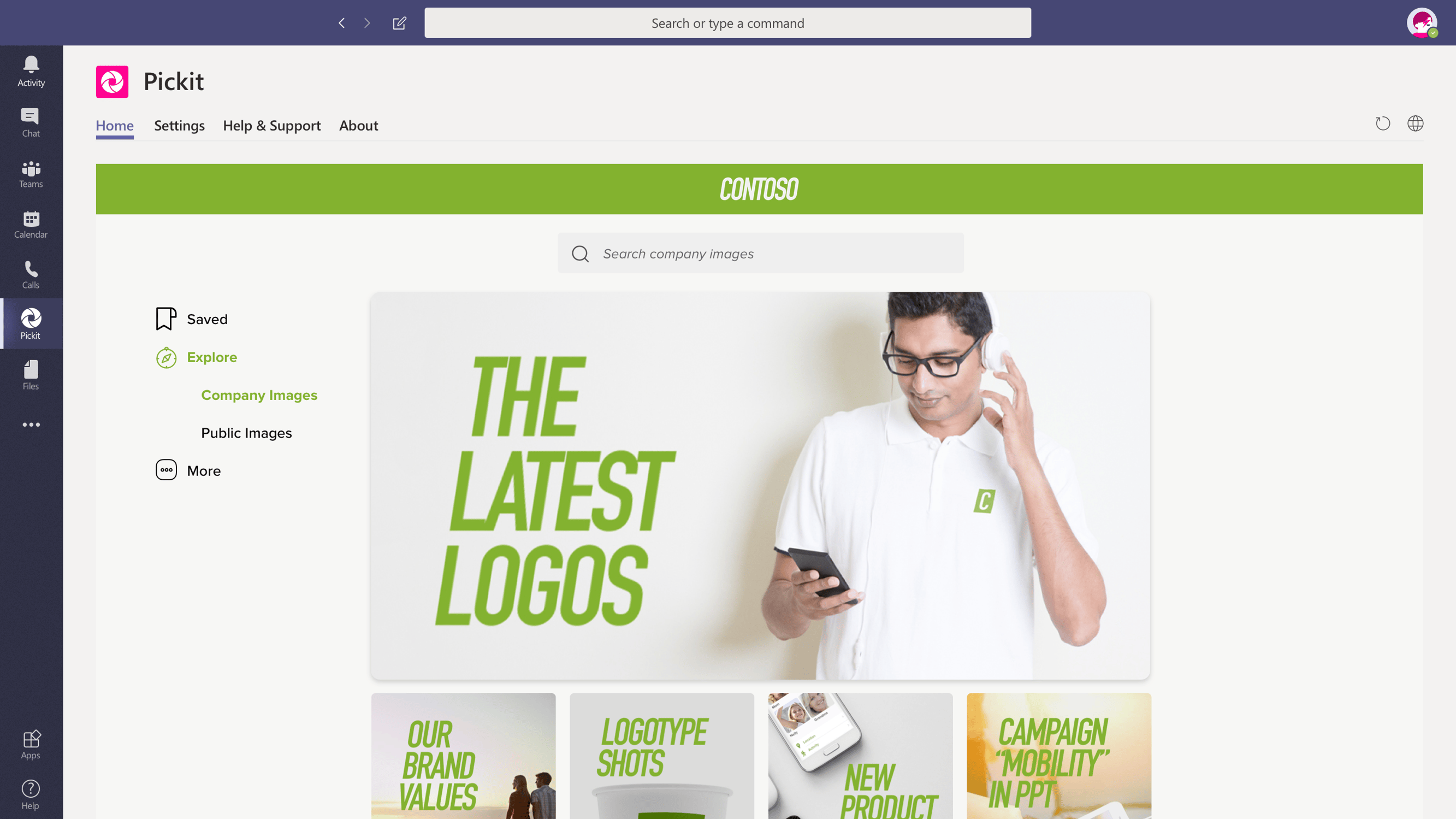 One of our most recent developments this year is the integration of Pickit into the Microsoft Teams ecosystem, giving you and your colleagues access to your company's image bank in a new and seamless way. Just search for Pickit in the Apps section and you can add your Pickit image bank to any team.
Office 365 admins can also centrally deploy the image bank to the left-side menu of Teams for the entire company in just a couple of clicks.
Finally, on behalf of everyone at Pickit, we would like to wish you all the best during the holiday season. Thanks for an exciting 2019, we can't wait to see what 2020 will bring and we're looking forward to embracing it all with you by our side.
Merry Christmas and a happy New Year from Pickit!