As the world navigates unchartered waters and many businesses transition to an increasingly digital workspace, we're working hard to keep improving the Pickit platform and enhance the experience for everyone working with images online. This month, we've got a really exciting update for you: the release of one of the top requested features to help marketing and brand managers get better control of their visual assets.
We recognize the need to store and share all kinds of file types across the organization and we've seen that vector formats are particularly important to content admins. That's why we've launched support for six new formats. Starting this week, you can upload the following file types: .AI, .SVG, .EPS, .PSD, .TIF and .TIFF. This in addition to the .GIF, .PNG, .JPG and .JPEG. formats that are already available. Any file can be up to 1GB in size.
As a marketing person, knowing that your colleagues outside of the marketing department don't have the tools and expertise to handle large vector file types, you're probably wondering how these files would work in Office. Wouldn't it be great if your colleagues from the Sales team could use the latest brand image in a PowerPoint presentation without it becoming too heavy to attach to an email, while your designers could still download the file for a rollup print from the same place?
That's exactly the scenario Pickit makes possible with this update. When you upload your large vector files, we automatically create 3 additional versions of the file in PNG format – one in HD, one in Full HD and one in 4K quality. Our Office add-in will automatically insert the Full HD version into PowerPoint and Word documents unless a different option is selected, to make sure that even the users who don't have time to think about file sizes have the best suited quality for their purposes. The upload process remains the same – just drag and drop your images to a collection page.
Go ahead and try it!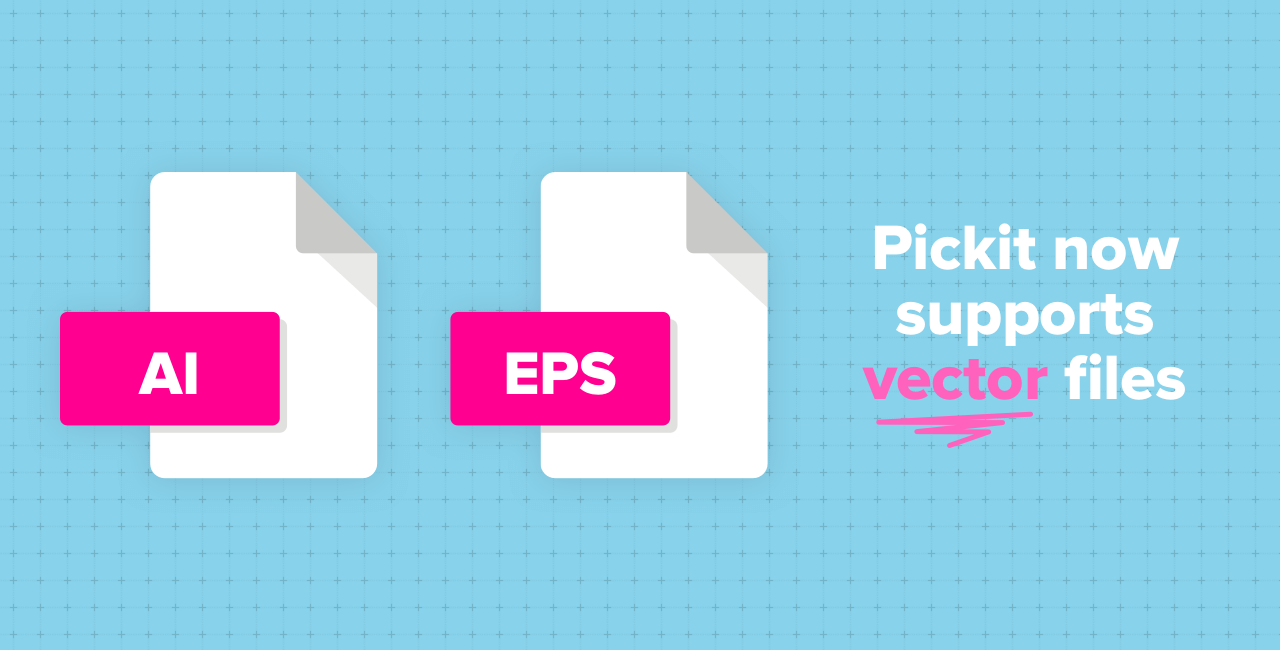 Greater speed and stability
We've also worked to introduce lots of performance and stability enhancements in this update to increase the speed of our Office add-in and make it snappier than ever. The way you view image details in the add-in has also been redesigned so they now appear in a popup window rather than a new page when you click on an image. Another change was refactoring the process for users to mark images as favorites and store them in private collections for easy access, and we've added filters for optimizing the search to make it even easier for your colleagues to find the right image.
Enhanced filter and search options
A piece of great news for all users is that they can now search or filter images even inside a specific collection, in addition to the rest of the image bank. To try this out, click on a collection in the add-in or in the Public Page on the web, and you'll see the Filter and Search options to the right of the title.
Learn more in our Pickit User Guide
Watch our demo and Q&A session
Interested in learning more about the new features in this update? Watch the live demo and Q&A session with our VP of Customer Success, Jullietta Stoencheva, and our Tech Lead, Jacob Johansson. Jullietta showcases the newest features and shares tips and best practices on working with your images quickly and efficiently, and Jacob explains the latest technology we use at Pickit and answers technical questions.
Watch the full webinar below