As parts of the world slowly but surely step out of some really challenging times, a large number of organizations around the world are taking a closer look at how to successfully continue the transition to a more flexible workplace model–one that meets the needs of employees that work both remotely and in a physical office space. Companies are also increasingly looking to satisfy the tougher demands being placed on establishing a healthier work-life balance as a result of the hybrid workplace.
For the last year or so, this has been our primary focus at Pickit too, following through on our commitment to develop smart solutions that meet the demands of an ever-evolving work life. If you've been following our updates, you'll know we've recently released integrations for cloud storage solutions including Dropbox, SharePoint and Box.
We're now thrilled to announce another pivotal partnership with another global giant: Shutterstock. In case you've been under a rock for the last decade or two, Shutterstock is a leading creative platform offering high-quality content and tools for brands, businesses and media companies. Shutterstock adds hundreds of thousands of images each week, and currently has more than 370 million images and more than 21 million video clips available. We're convinced that this addition will further increase the value of our product offering and enhance our already comprehensive DAM system.
Read on to see how the new integration can simplify your workflow and help create a smoother experience across all your applications.
How to connect your Shutterstock
account to Pickit
When you click on the Media Markets tab, you'll see the integration option for Shutterstock. You can connect Pickit directly to your Shutterstock account to easily import, manage and distribute your Shutterstock images right alongside your other media in Pickit.
Now that the connection is complete, you'll see Your Shutterstock Images History and Search Shutterstock Images. You can add individual images from Shutterstock into your own library stored in Company Media or add them directly to your collections. To save images to your Company Media bank, just click the cloud icon. To add to images to collection, simply drag and drop files from the left side of the screen into the collection. When you add a Shutterstock image file directly to a collection, the file will also automatically save to your Pickit Media view.
You'll not be charged by Shutterstock for importing your existing Shutterstock Image History into Pickit. You'll only be charged by Shutterstock when you save a new image from Search Shutterstock Images.
Search, source & share Shutterstock images in Pickit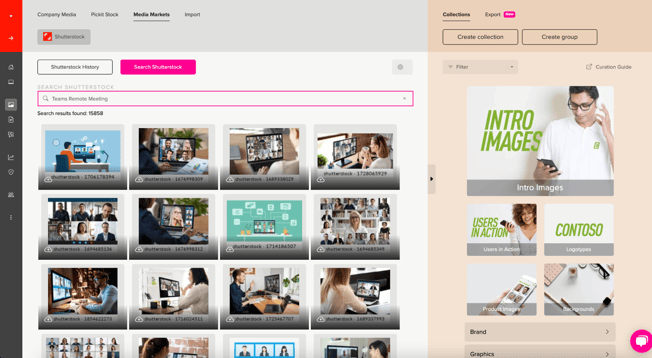 This new partnership, which delivers key synergies to the users of both solutions, will for example allow all current and new Shutterstock Enterprise customers to search, license and backup their creative images directly within the Pickit platform, increasing the speed at which content can be searched and used across teams for marketing, PR, events, internal presentations and more.
Also, when Shutterstock Enterprise and Pickit customers license creative images on Shutterstock, their assets will be automatically available inside Pickit. There's no need to manually upload assets — instead, simply search and share Shutterstock content without leaving the Pickit platform!
Users can now save a lot of time and minimize context-switching by accessing their Shutterstock files in seconds from inside Microsoft PowerPoint, Word and Teams using Pickit's award-winning Office apps.
Search images to reuse licensed content
With the help of keywords, image type filters and other metadata tags, you can search your library of previously licensed assets and reuse content for presentations, press, advertising, internal communications and more. Pickit preserves Shutterstock metadata, making it easy to quickly find the exact asset you are looking for.
Curated lightboxes to ensure on-brand content
Additionally, you can now also view pre-curated Shutterstock light-boxes within the Pickit platform. As Enterprise customers, our research team can do the legwork on your behalf, which means you don't have to search through millions of assets to discover the most relevant, on-brand visuals for your projects and presentations.
Office apps for easy access in Microsoft PowerPoint, Word and Teams. This significantly reduces the amount context-switching needed to find the right assets, and makes the presentation and document creation process faster and smoother.
Want to learn more? Book a demo today by clicking on the link below and find out how to get the most out of your Shutterstock assets

Pickit + other platforms
When it comes to your digital assets, keeping everything accessible, organized and consistently branded can be a challenge. And obviously, with time the more content you and your team create, the more assets you have to eventually manage. This process will naturally become more time-consuming as your volume of files and documents increases.
With Pickit's Enterprise package, you can now enjoy all the benefits of a full-scale Digital Asset Management solution while retaining the simplicity and visual navigation you love from our existing solution. The system is still seamlessly integrated with Microsoft apps such as PowerPoint, Word and Teams, but now also includes integrations to help you quickly connect to external image libraries and file management systems.
That's why it's vital for your organization to have your assets stored in a single and convenient location, so you don't need to waste any time in trying to find that specific file. Our latest partnership with Shutterstock is all about making it as easy as possible to produce high-quality creative content, fast.
As always, we're working to introduce even more integrations in the near future – if you have an idea about a platform you'd like to see integrated with Pickit, please send us a message to let us know!
Got a Pickit Business or Enterprise license already?
Book a demo today and find out how to get the most out of your Shutterstock digital assets.
Not a Business user yet?
Start a free trial here to access the Shutterstock integration and other features.